MS Office 365 Excel Training

Learn the key skills needed to organise and analyse data using Excel.

Join us for Excel training covering the basics to intermediate level. We introduce a syllabus to follow but can facilitate your requirements as well. Organising and analysing data using Excel provides insights and information to allow effective decision making. We cover standard formulas and functions, as well as data visualisation through creating and formatting graphs or charts. See below for our next training event starting soon.
Learner outcomes

Participants will learn to use Excel to create and work with spreadsheets, entering, moving, editing, and deleting data, and create and edit charts and graphs.

Create new and open existing spreadsheets
Learn and use menus and toolbars
Add, edit and delete data
Format data, cells, rows and columns
Add formulae and create tables
Add and format charts and graphs
Prepare and format printing pages
Next Excel Training Event
Date: Wed 25 Oct 2023 till 29 Nov 2023. Time: 18h00 to 19h30 pm for 6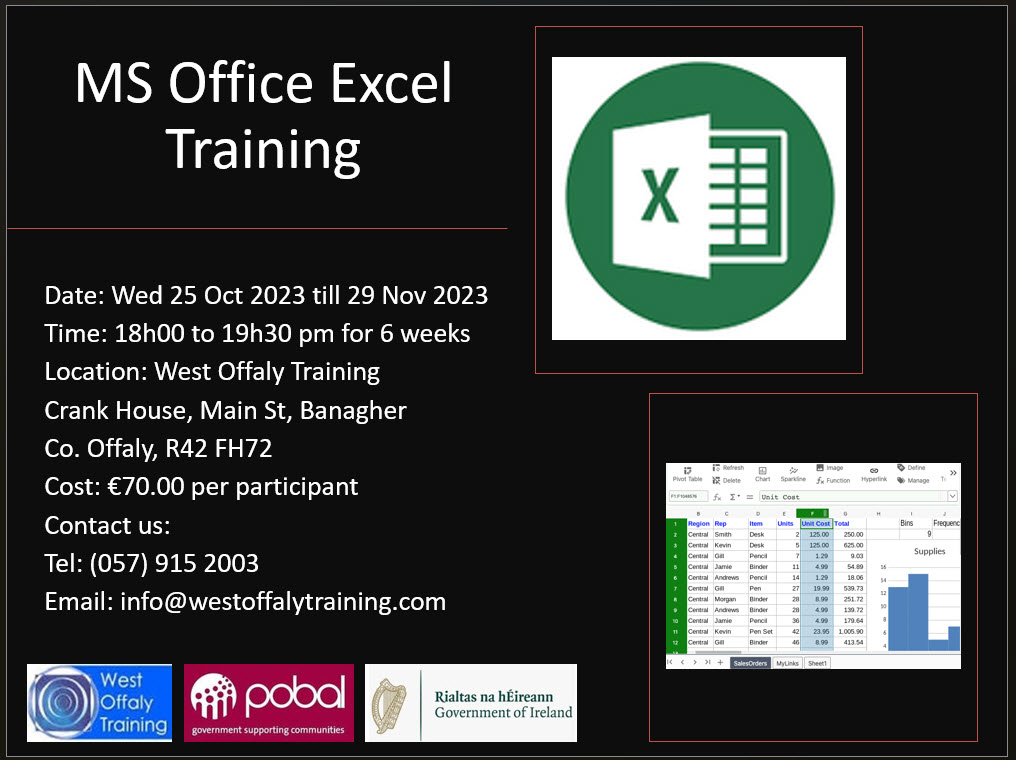 Excel Advanced
Uses more formulas to a higher level than the ICDL ordinary level. The advanced level also uses additional features such as filters and Pivot tables for sorting and analysing data.
Who is it for?
Excel Advanced is for people with some experience in Excel. A good basic understanding of mathematics in the area of formulas would help but is not required.
What is covered?
Apply advanced formatting options such as conditional formatting and customised number formatting and handle worksheets.
Use functions such as those associated with logical, statistical, financial and mathematical operations.
Create charts and apply advanced chart formatting features.
Work with tables and lists to analyse, filter and sort data. Create and use scenarios.
Validate and audit spreadsheet data.
Enhance productivity by working with named cell ranges, macros and templates.
Use linking, embedding and importing features to integrate data.
Collaborate on and review spreadsheets. Apply spreadsheet security features.