West Offaly Training Positions
We are now hiring. Join our team!
Position available: ICT & Soft skills Trainer / Tutor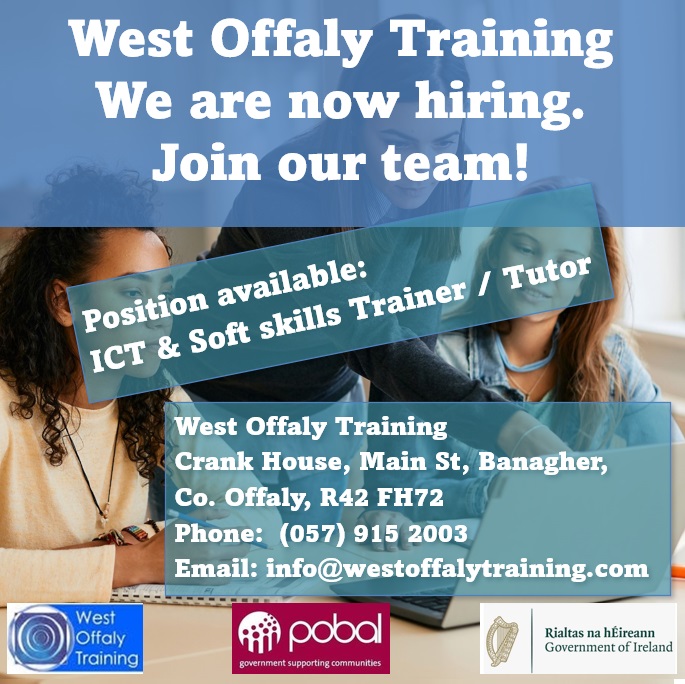 Would you like to pursue a career as a trainer, have you a desire to help other people develop new skills and improve their own lives? if so, this is the job for you.
West Offaly Training is a social enterprise, community training not-for-profit organisation in Banagher, Co. Offaly, involved in Training and Education of Soft Skills, IT and Health and Safety, and part-funded by Pobal.
Job description
The job entails teaching IT and soft skills for training courses both on site and on location. The successful candidate will be self-driven, independant and motivated and work closely with the manager and staff to ensure company goals are achieved. The job offers a unique opportunity to join a small, dedicated team in a community service provider in the Midlands.
The Trainer will provide courses in the different areas below:
MS Office applications – Word, Excel, Powerpoint
ICDL applications
Health and Safety – Manual Handling
Life skills
Business administtration
ICDL Exams facilitation
Your responsibilities:
Responsible for the development, co-ordination and delivery of up to date Soft Skills, ICT and Health and Safety training courses.
Maintain class, learner and quality records for the company and outside organisations.
Deliver classes onsite, to groups and learners in various locations and facilities as needed.
Utilising the company's training facilities and laptops to their full advantage.
Maintain and develop the company's web and social media presence.
Setting up facilities, delivering presentations and locking up as needed.
This position will involve occasional evening and weekend work.
Essential Requirements
A minimum of 1 years training experience
Excellent presentation skills
Good technical knowledge of and enjoyment of IT in general
Full clean driving licence and own transport.
Desirable Requirements
Previous experience training personal development courses.
Understanding of IT maintenance and technology an advantage.
A train the trainer qualification
A Training qualification
This is a 1-year contract 9 to 5.30, Monday to Friday (subject to funding) and you will be based in West Offaly; however, travel will be required. The position will involve occasional evening and weekend work.
The ideal Candidate will currently be on the live register and actively looking for employment. Applications by letter and CV to:
The Chairman
West Offaly Training Ltd
Crank House
Main Street
Banagher
Co. Offaly
Applications by email and CV to: manager@westoffalytraining.com
Apply now!